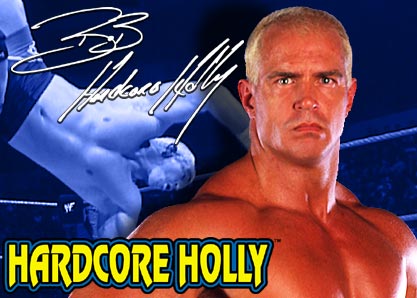 Height:
6'
Weight:
235 lbs.
Date of birth:
January 29, 1963
From:
Mobile, AL
Pro debut:
1990
Finishing move:
Alabama Slam
Trained by:
Rip Tyler & Stan Frazier
AKA:
Bob Holly, "Hollywood" Bob Howard (SMW), Thurman "Sparky" Plug, Bob "SparkPlug" Holly, Bodacious Bob
Hardcore Holly is an angry man. A former Hardcore and World Tag Team Champion, Holly missed more than a year of action after breaking his neck in the ring. Now Holly is back and has never been as angry or as intent on living up to his nickname as he is now. There is no opponent too big or too tough for Hardcore Holly to face -- all he needs is a time and place and he is willing to fight anybody.
Hardcore earned his moniker by dominating the now defunct Hardcore Division, winning the Hardcore Championship six times from early 1999 until early 2001. Now he is renowned as a man who will not shy away from a fight. Whether he's defending the honor of SmackDown! from the criticism of Superstars such as Booker T, or challenging for the WWE Championship, Hardcore Holly is on a mission to prove to everybody exactly how mean he can be ... and thus far nobody has been able to prove otherwise.
Credit:
wwe.com
Random Facts
Wrestled at four Wrestlemania's
2-Time WWE Tag Team Champion
6-Time WWE Hardcore Champion
Has been with World Wrestling Entertainment for 11+ years and has also wrestled for the NWA, WWO and Jim Cornette's Smokey Mountain Wrestling